Always the right climate
The conditioned chambers of the CLIMACELL product line provide all conditions for exact and reproducible simulation of various climatic conditions, applicable e.g. in testing of stability components and food or chemicals packages, or in studies of germs, plant or tissue cultures, and insects. These devices offer an interesting alternative to expensive testing chambers and testing rooms. Microprocessor-controlled system of humidification and dehumidification with a powerful lighting system guarantees excellent homogenous parameters for testing and growth conditions.
Inner volume: 111, 222, 404, 707 and 1212 liters
Working temperature: From 0°C up to 100°C (without humidity); from 10°C to 95.0°C (with humidity)
Refrigerant: R134(R449a
Medium for humidity development: demi water
Humidity range: 10%-98% RH
Microprocessor-controlled system of humidification/dehumidification
Inner glass door
Inner chamber: Stainless steel DIN 1.4301 (AISI 304)
Sturdy design and perfect protection against corrosion are ensured by a self-supporting outer jacket made of stainless steel sheet with hard and resistant baking varnish on the outer side. The inner double-jacket chamber and the door panel are made of high-quality stainless steel (DIN 1.4301, AISI 304). For the purposes of energy saving and minimizing the heat radiated to the ambient air, the chamber is perfectly insulated with an ecological insulating material. The inner walls of the chamber can be easily removed without using any tool, e.g. for the purposes of cleaning. On top of that the chamber has a fan with a speed regulation, and an inner glass door. An efficient humidifier uses distilled water (a storage tank is included in the supply). The door is secured at four points for perfect tightening.
Changes in the design and make reserved.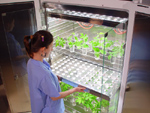 The high technical standard of the climatic chamber CLIMACELL product line with the chamber volumes of 111, 222, 404, 707 and 1212 liters and working temperature from 0°C up to 100°C offers all conditions for exact and reproducible simulation of various natural climatic conditions. The CLIMACELL product line can be used in research of germs, plant or tissue cultures, insects, for stability tests etc. The microprocessor-controlled system of humidification, dehumidification, cooling, and heating combined with a high performance system of the interior lighting guarantee both homogenous parameters for testing and ideal conditions for development and growth of samples. The patented cooling system (ecological cooling medium R134a) and air ventilation within the chamber guarantee rapid and precise reaching of the selected temperature and humidity in the chamber and consequently an ideal sample heating and reduction of the humidity condensation in the chamber. The CLIMACELL product line offers high operating comfort, precise regulation, possibility to reach even extreme short time of temperature changes and short times of temperature and humidity recovery in the chamber after the door opening and therefore it is suitable for demanding and exact tests and processes of sample cultivation. The devices can be provided with various types of inner chamber lighting. The CLIMACELL units meet requirements of technical and legislative regulations in both CZ and EU.
Incubators for photostability testing, experimental growing of plants, …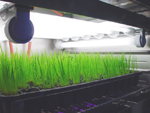 Cultivating and testing CLIMACELL incubators equipped with an exposure light create optimum conditions for plants growing and tissue cultures cultivation under natural conditions. Large-capacity control unit enables easy programming and offers a wide range of parameters for day and night simulation (air flow / temperature / humidity / lightning). The units also meet the most demanding requirements for the photostability tests according to Part 2 of ICH Q1AR and Q1B guidelines, and to the European norms.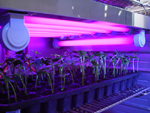 Type of light tubes installed as a standard: Luxline Plus – White 840
Light intensity: Max 30,000 Lx – shelves, max. 36,000 Lx – door
Optional types of the supplied light tubes:
Luxline Plus – Cool White 840
Luxline Plus - Daylight 860
Black Light Blue; Gro-Lux: increased proportion of blue and red color - support of photobiological plants processes
Aktiva – UV-white light
(Note: Some types of the above-mentioned light sources may not be available for all chamber volumes.)