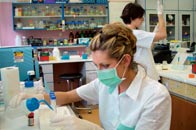 These days great demands are being placed on all of the products and the services that surround us and therewith connected also on the testing of the quality of materials, final products and the testing of technologies used in industrial branches. In the same way we expect high quality in health services and the follow-up services of laboratories or private clinics. The same applies to other fields, such as universities, agriculture, where people expect exact and repeatable results through various measuring, germination or the breeding of live organisms.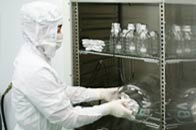 It is to the very reproducibility, exact homogeneity of all parameters both in time and in space, the time effectiveness of processes and last but not least also to the simplicity of control and high variability that we have accommodated the smart design of our complete and time-tested heat technology and table top or big steam sterilizers. A good quality drying chamber, incubator, simulation chamber or steam sterilizer, as one of the basic components of today's modern laboratory, is a prerequisite for users' successful follow-up developmental or production steps. We are glad that we too can contribute to this through our coherent line of reliable steam sterilizers and exact heat technology bearing the typical blue smile.
What makes us different?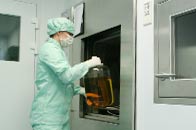 Our company not only sells exactly defined types of units, but we also offer our customers the possibility of creating the tailor-made unit that they need and together with the unit we also offer our business services, including advisory services in the field. Modularity based on the sectional principle is typical for our products and allows for a great flexibility in the realization of individual customer solutions, which comply with specific terms and conditions in the given area and country.
Do you prefer your own solutions?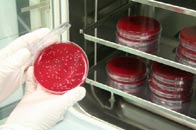 Lately, we have taken many specific steps on our road to become a solution provider. Only the ability to understand our customers' needs and the relevant processes in their work using our technology allows us to create and offer tailor-made solutions.
Solutions are based on the comprehensive satisfaction of individual customers' needs through professional services.
We maintain a day-to-day dialogue between our customers and our experts on the one hand and our developers on the other hand.
A functional relation between the design, equipping and conception of units and the operating procedure, man and the environment, forms the basis of our orientation on the market.
What do we offer to you?
Our company offers you more than just high-tech technology. Through open dialog we offer to help you find solutions that are clearly subordinated to your requirements. Put simply, we go further.
Our comprehensive approach will make your life easier and will bring you real benefits – productivity, high quality, relating services and financial efficiency.
Read more about the individual types of products and comprehensive services on offer in the following sub-sections!