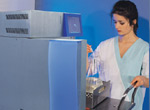 UNISTERI HP IL devices are designed for quick sterilization in health service establishments:
one-day surgical clinics and consulting rooms of policlinics – sterilization of all necessary materials: Instruments, glass, textile, objects made of rubber, …...
surgical departments of hospitals too far from the departments of central sterilization – in particular, optimization of the repeated use of necessary instruments
health service clinics and fi rst aid centres where quick sterilization of sanitary material is required
dental practices where the necessary material volumes cannot be treated by table-top types of sterilizers
microbiological departments of health service establishments – sterilization of solutions in half-closed bottles, culture media,…

The steam sterilizer UNISTERI HP IL is designed for the health service to sterilize medical devices. The sterilizer complies with the European Directive no. 93/42/EEC as amended by the Directive no. 2007/47/EC (Class IIb medical devices), and with the appropriate standards, especially EN 285+A2. It is manufactured within a certified quality control system according to EN ISO 13485 and adjusted to the individual needs of single worksites. The pressure equipment of the sterilizer has been designed and can be produced alternatively in accordance with the European Pressure Equipment Directive no. 97/23/EC and additionally for example, with ASME Code requirements (for the USA and Canada), or AQCIQ licence regulations (for China). Validation according to EN ISO 17665-1 is performed by our accredited testing laboratory.
control panel with an 8.2'' touch-screen providing maximum operation and service comfort
immovable maintenance-free door sealing
low-energy steam generator for lower operating cost (commencing from 7.5 kW)
efficient water ring vacuum pump for short charge times and quick and accurate cycle processing
double-processor PLC control by two independent Master-Slave systems for quick, accurate and safe cycle processing
patented method of control of the continuous steam filling of the sterilizer chamber with an independent and stable steam pre-heating for economical operation, and with low media consumption
both single-door and double-door models offering an installation into a stainless steel wall
optional steam source – internal, external, or combined
optional coarseness of the internal surface of the sterilization chamber
system for manual material loading and system of transport and loading carts
wide range of optional software
various possibilities how to process the batch records
wide range of optional accessories to minimize the operating cost
possibility to select specifi c accessories (e.g. chamber provision with a fl exible PT 100 sensor for safe and accurate cycle control during work with microbiological cultures and solutions; wide range of individual programmes adjustments, …)
wide range of services (including the ON-LINE internet diagnostics, various kinds of tests, validations, etc.)
the highest possible operating safety, doubled system sensors for collection and assessment of process information and their continuous comparison and assessment
PLC consisting from two microprocessor control systems ("Master-Slave") for independent cycle assessment, control and documentation
any found deviation exceeding the permitted levels results in an error message
unique error report for an accurate and quick error diagnostics
up to 20 standard programmes in the basic programme equipment
easy implementation of individual programme adjustments
unlimited number and easy changes of programmes by means of chip cards
the pressure chamber heated by steam through the heating jacket is made of high-quality stainless steel DIN 1.4404 (AISI 316 L)
patented method of control of the continuous sterilizer chamber steam filling with an independent and stable pre-heating for economical operation and low media consumption
descending bottom of the sterilization chamber for perfect drying
ground surface of the sterilization chamber, coarseness Ra 1.25 μm (Ra 50 μinch)
high-quality insulation materials Rockwool (chlorides free) with an Al foil
to allow validation, all sterilization chambers are equipped, as a standard, by two easy accessible inlet hollows according to EN 285+A2
new unique horizontally rotating automatic system of the door closing, fixed in 4 points, special door hinge ensures secured enlarged space for the user for comfortable and safe manipulation with material and easy cleaning of inner side of the door
the steam generator and the heating elements are made of high-quality stainless steel DIN 1.4571 (AISI 316 Ti)
high-quality insulation Rockwool (chlorides free) with an Al foil reducing markedly the heat losses
Decreased requirement to conductivity of feeding water 15 μS/cm compared to the value recommended by the standard EN 285+A2 provides significant savings in water treatment costs.
The functions of water filling and the generator output are controlled by a two-processor control system Master-Slave, with a unique construction, with thermal degasification of feeding demi-water for minimisation of non-condensable gases (optional equipment) and with automatic desalination arranges short times of sterilisation cycles and permanently high quality of steam
user-friendly with intuitive control
PLC consulting from two integrated microprocessor control systems (Master-Slave) with own sensors for independent assessment, control and documentation of working cycles
ergonomically positioned control panel
the technology of an 8.2'' touch screen allows clear and simple operation on the loading side
on the unloading side of the device (a two-door model), there is an LED display allowing monitoring of the actual working phase, sterilization chamber pressure and time remaining till the cycle end
the Total Stop function integrated in the control panel allows stopping the device in case of need
selection of language for communication with the device
clear digital displaying of pressure in the sterilization chamber jacket and the steam generator, and of pressure and temperature in the sterilization chamber (reference bottle)
clock – the remaining programme time and real time displaying
error report with all parameters recording in the moment of a defect for both quick and distant service
visual and acoustic condition and process signalling
chip card system (optional accessories)
As a standard, the device is equipped with a preheating programme (134°C/1 min)
"Instruments Quickly" 134°C/ 4 min, with following short drying, for non packed instruments for immediately following use
"Universal" 134°C/ 7 min, with following drying
"Universal Containers" – 134°C/ 7 min, with intensive drying
"Packed glass, Rubber and Plastics Products" – 121°C/ 20 min, with following drying
Standard testing programmes for routine check
Vacuum test – chamber air-tightness testing; compensating phase duration: 5 min.; test duration: 10 min.
Bowie&Dick test 134 – test pronikání páry, 134°C/3,5 min
Special programmes
Prions
Disinfection 105°C/20 min
Laparoscopy
Alloplastics
Plastic materials
Optics, …

Programs according to specific requirements must be validated at the customer's!

Special programmes with possibility of use of the movable PT 100 sensor

Solutions in open bottles 121°C/20 min, unprompted cooling
Solutions with forced cooling and back air pressure
Arnold steaming 100°C
Agars (culture media) with unprompted cooling

Solutions sterilization safety

Sterilization of solutions in open bottles and regeneration bottles with a GL 45 thread, corresponding to DIN 168, Part 1, ISO 4796, mark SIMAX, blue cap. In addition to the standard working and safety procedures and processes, the solutions safety is also checked by three independent systems – temperature and pressure checking in the sterilization chamber, temperature in the reference bottle, and the minimum required sterilization cycle time. Only if all above mentioned processes are complied with, the programme is declared to be finished and the system allows the chamber door opening.

The programmes installed in the device can be modified directly in the device at any time (depending on the access rights), or by means of a chip card system at the device user's site. On the chip cards, new programmes developed and tested by the manufacturer upon an order are saved. We offer a special UNICONFIG software as well, allowing modification of all sterilization cycle values (evacuation, vacuum depth, exposure, drying) and setting of the sterilization cycle temperature and time. (Verification by the manufacturer required.)

A clear documentation of work cycles can be ensured by:

independent documentation of working cycles with pressure and temperature recording, allowing the storage of the last 10 records in the sterilizer memory (up to tens of thousands optionally – SD card)
connection to a PC and storing the records in the computer memory by means of the "Printer Archiv" software
connection of the sterilizer to a computer network (LAN) together with the software application Ecosoft and DP 3.5
integrated printer allowing to select one of two graphic outputs

The PLC automatics is equipped with a rich software allowing easy checking, maintenance and testing (interactive schemes of the piping connection, testing programmes allowing the device safety elements testing, calibration setting, etc.). We offer an ON-LINE internet diagnostics and monitoring of the sterilization device, allowing quick and direct communication with the device and providing for a continuous trouble-free operation of the worksite. This all guarantees low operating costs and long lifetime of the device. The device allows a detailed planning of service activities with a subsequent notification on the display or the printer record.

The low consumption factor is reflected in the models of the future. The more and more demanding legislative requirements, laying emphasis on the introduction of safe products on the market, and the more and more rising prices of the input media constitute a pressure to the rise of the operating costs of the sterilisation technique. Therefore, the low consumption of cost saving and, at the same time, comfortably equipped sterilizers is the hit and advantage of the present age. Such sterilizers have increasingly been setting a new tone in the health care facilities.

The UNISTERI HP steam sterilizers can be equipped with the system for cooling water saving by which water consumption can be reduced by about 25%. In cases of strict requirements for low sterilizer operating costs in the health-care facilities, field hospitals, or in regions with drinking water absence, this principle of cost savings might not be sufficient. Therefore, we offer a version with autonomous operation which totally eliminates the need of connecting the device to a water source. There is thus no cost of the cooling water. This version of the sterilizer is equipped additionally with an integrated cooling aggregate placed in the rear part of the device. The operation of this apparatus is controlled fully by the sterilizer automatics and requires no operating personnel. The electrical energy and demineralised water source for the integrated steam generator are sufficient for the proper steam sterilizer operation. The supply of the steam generator by demineralised water could be solved by a fixed connection to a water treatment apparatus or in an autonomous way, namely by a reservoir with the volume of approximately 25 litres. Demineralised water supply from it is controlled by the device automatics.

Thanks to a unique design solution, we have achieved the reduction of the energy demand of the steam generator by approximately 50%.

Comfort and safety of the user by operation of the device is secured by automatic door closing system including door sealing; course and multiple checks of processes are controlled by double microprocessor control.

The construction of the pressure vessel and the door, and the selection of the inner surfaces quality allow a perfect, quick and comfortable cleaning of all parts of the sterilization space.

This is another feature of the economy product series that you can order together with the device and that will save your time. The Automatic Morning Switchingon function is able to start the device at a time set by you and to perform the pre-heating and the Vacuum Test automatically without any operator's presence. The routine test programmes can thus be performed more effectively.

Use of the new Ecosoft software application which, together with the connection of the device on the sterilisation work site to the computer network (LAN), allows the documentation of all sterilisation processes and independent data storage, reports printing on an A4 paper, and connection of a bar code reader.

This is a set of software and hardware sterilizer modifications that give the possibility of a single and mutual regulation of the integrated steam generators operation to secure the energy peaks watching and communication with the central technical office, or the possibility to limit the electrical distribution system sizing on the installation place.

The Air Detector is a device which monitors and detects continuously the air and/or non-condensable gasses penetration and presence in the sterilisation chamber during each programme of packed materials sterilisation. The equipment of the device with this apparatus represents a higher guarantee of the sterilisation safety than the so far performed routine checks by testing programmes (Vacuum Test and Bowie&Dick Test) done once a day only before the commencement of the common operation.

In addition to the device supplies, we offer other range of services related to the development of central and operating room sterilizations:

counselling and project drawing including the logistics and capacity calculation
turnkey device deliveries including the individual information systems
The ability of the sterilization processes to be validated and recorded is one of the conditions for their quality assurance. For these purposes, the users of UNISTERI HP steam sterilizers are also offered a new service – Validation – which allows proving the compliance of the appropriate standards EN 285+A2 and EN ISO 17665-1 with the device parameters. The technical measurements are performed by our own accredited testing laboratory.

Service and maintenance are ensured fully by a worldwide network of BMT Medical Technology s.r.o. contractual organizations. We have a wide network ofbranded service worksites connected to the HOT-LINE service that ensures a quickreaction to the customer's questions and requirements. To ensure the user's comfort and possibility of a quick and highquality service action, we have developed a special autodiagnostic programme. We offer an ON-LINE internet diagnostics and monitoring of the sterilization device, providing a quick and direct communication with the device and providing for a continuous trouble-free operation of the worksite. This all guarantees low operating costs and long lifetime of the device.

The device complies with all up-todate ecological requirements. It does not burden the working and living environment. An efficient vacuum pump with a standardly intergated feeding water sparing equipment saves 15% of the operating costs. A unique construction of the steam generator with an automatic desalting ensures a continuous high quality of the steam. High-quality materials ensuring a long lifetime of the device are used during the manufacture. We offer an equipment with the waste water aftercooling apparatus allowing the waste temperature setting. The device does not produce any harmful wastes. During its manufacture, ecological methods of processing are used as well. All substantial parts of the devices and the package are recyclable. The device contains 95% of stainless steel, 4% of other materials, and 1% of electrical and plastic materials. Ecological liquidation is carried out after a disassembly by an authorized person in accordance with EU regulations complying with the WEEE Directive. (Waste Electric and Electronic Equipment)